I Broke Down and Got Something by Kiyosaki
Tuesday, October 17, 2006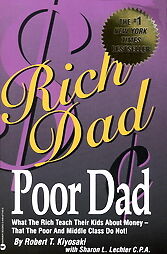 For the most part, the blogger consensus on Kiyosaki is that he is nothing more than a good salesman. "We" feel that he uses tired old cliches that have been around since way before Kiyosaki wrote about them.
Still, I decided to get
Rich Dad Poor Dad.
Since I didn't want to waste money, I borrowed it from the library. And since I didn't want to waste time, I got the audiobook on tape. I'll be listening to Kiyosaki as I drive to work and while I'm cooking. Maybe even at the gym.
3 Comments: